The cochlear implant bypasses the damaged parts of the inner ear and directly stimulates the remaining hearing nerve fibers in the cochlea with electrical signals.

The cochlear implant consists of two basic components: an outer (external) and an inner (internal) device. The external device consists of a speech processor (see #2, figure below) (worn either as a body worn or as a behind-the-ear device(#2)), a transmitting coil(#4), a directional microphone(#1) and connecting cords(#3). The internal device consists of a receiver/stimular(#5) (placed directly below the skin) and a multi-electrode wire array(#6), which is inserted into the inner ear (cochlea). The transmitting coil of the external device is secured over the receiver/stimulator of the internal device through magnetic attraction.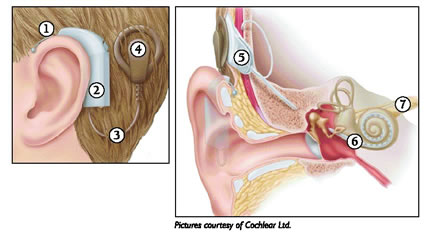 The Cochlear Implant System works in the following manner:
1. Sounds are picked up in the small, directional microphone located in the ear level speech processor.
2. The speech processor filters, analyzes and then digitizes sound into coded electrical signals.
3. The coded signals are sent from the speech processor to the transmitting coil.
4. The transmitting coil sends the coded signals as FM radio signals to the cochlear implant under the skin.
5. The cochlear implant delivers the appropriate electrical signals to the electrode array, which has been inserted into the cochlea.
6. The electrodes along the array stimulate the auditory nerve (hearing nerve) fibers in the cochlea.
7. The resulting electrical signal is sent through the auditory system to the brain where the signal is interpreted. After a period of rehabilitation, these signals are interpreted in the brain as sound.